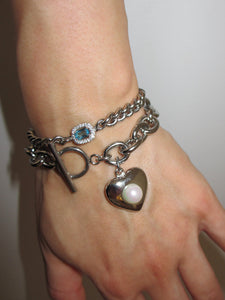 Chain Bracelet in Stainless Steel
925 Sterling Silver Heart with Shell Pearl

Choose your size
Handmade in Los Angeles - please allow 1-5 business days for this item to ship

THE SILVER VENUS HEART BRACELET features our signature VENUS heart in solid 925 sterling silver adorned with a white shell pearl. Attached on a chunky stainless steel chain, this piece is the perfect combination of pretty and edgy. Wear it to elevate all your looks!